Rain Gardens
Jump to navigation
Jump to search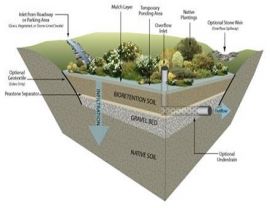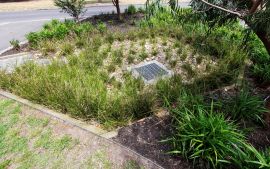 Brief Description
A rain garden is a depressed area in the landscape that collects rain water from a roof, driveway or street and allows it to soak into the ground. More complex rain gardens with drainage systems and amended soils are often referred to as bioretention.
Cost Range
Construction: $-$$
O&M: $-$$
Ideal Conditions for Installation
Precipitation: Natural hydrology cycle Soils: Soil Groups A,B, ideal - C,D with amendments and/or underdrain Groundwater: Minimum 1' to groundwater
Where/Applicability
Residential: Yes - Yards, park strips, swales Commercial: Yes - Park strips, tree boxes, swales Ultra Urban: Yes - Tree boxes, park strips Industrial: Limited - Landscape islands Highway/Road: Limited - Parallel swales Retrofit: Limited - Tree boxes, landscape islands
Should be designed to harmonize with landscaping using native vegetation and minimal irrigation demand. Proprietary devices may or may not be appropriate.
​== Maintenance == Frequency: Annual Type: Remove accumulated debris as needed Monitoring: Annually, start or end of wet season Permit Renewal: 10 Years
Performance
Total Suspended Solids (TSS): High Chloride: Low-Medium Total Nitrogen (TN): Low-Medium P Metals: Medium-High Oils and Grease: Low-High Pathogens: Low-Medium
Specifications
Pretreatment is recommended to remove sediments and floatables.​
1. Rain Garden subgrades shall not be compacted nor subject to heavy construction equipment <800 lb per sq ft/6 PSI. After tributary areas are stabilized, light construction equipment (skid steer with tracks) to be used to scarify bed to line and grade.​
2. Upon completion of sub-grade work, the Engineer shall be notified and shall inspect at his/her discretion before proceeding with bioretention installation.
3. Install nonwoven 4-oz to 6-oz separation geotextile fabric per manufacturer recommendations for overlap. Secure fabric in place with gravel piles to prevent movement by wind and construction activity.
4. Place drain rock fill to specified depth. Rock shall be single-graded between 1/2" and 1-1/2" and may be crushed or rounded.
5. Install perforated collection underdrain (if required) using schedule 80 PVC or HDPE meeting AASHTO M252. Pipe sock is not required, and typical perforation patterns from manufacturers are acceptable.
6. Install vegetation per landscape plans between April 1 and Sept 15, or as weather and climate support early plant growth, and as weather and climate support early plan growth, and as approved by Landscape Architect.
7. Install 8" x 3/4" rebar with cap at each corner of Rain Garden bed, such that cap is at grade with finished bio-retention surface for future inspection purposes.
8. Install 3" of minimum 6-month old bark mulch or 2" of rock much except in areas finished with sod or seed.
9. Maintain SWPPP implements until the entire site is vegetated and stabilized. Engineer to approve operation of the Rain Garden.
10. Vegetation shall receive water by hand-watering or from wetting rain events (1/2" rainfall or more) daily for a minimum of two weeks immediately following planting.
11. Contractor shall provide a 100% warranty on care and replacement of plated vegetation for 12 months commencing on the date of project acceptance by engineer.​
Notes:
1. All material to meet specifications.
2. Rain garden area must be sized appropriately for site conditions.
3. All plant material to be specified by landscape architect.
4. Site must be fully stabilized prior to rain garden construction.
5. Native soil below and surrounding the rain garden area must not be compacted.
6. No construction sediment may be permitted to enter the rain garden.
Construction Sequence
1. Adhere to approved SWPPP documents for construction BMP's.
2. Install underground utilities (water, sanitary sewer, electric and phones) taking the location and function of storm water BMP's into consideration.
3. Grade the rain garden feature per approved construction documents accounting for underdrains (if any) and their invert elevations and connections to outlets, side slopes geometry, longitudinal slope (if any) and over-excavation requirements. Do not compact beds or side slopes.
4. Install non-woven geotextile fabric over the bed area including the bottom and sides.
5. Backfill over the fabric with uniform drain rock (1/2" to 1-1/2") to specified depth (typically 6" to 16").
6. Install perforated subdrain (if included) and connect to outlet system. Subdrain is positioned near the top of the drain rock backfill layer.
7. Install non-woven geotextile fabric over drain rock bedding.
8. Place bio-retention layer fill material according to designated depth and specified soil composition. Provide adequate protection of underdrain features during construction activity to prevent breakage or significant deflection.
9. Plant or seed the rain garden with drought-tolerant vegetation appropriate to the specific locale. Place mulch cover after plants are installed, seeded rain gardens typically exclude mulch: https://cwel.usu.edu/files/Utah_House_Plant_List_v2_4p.pdf for native drought tolerant vegetation listings.
10. Remove the silt fence and other temporary erosion control features after the site is stabilized per project engineer approval.
Downloads
Rain Gardens DWG
Links
Bioretention Reference
Design Standard
Cross section