Inlet Protection (post-construction
Jump to navigation
Jump to search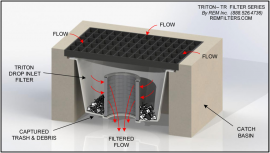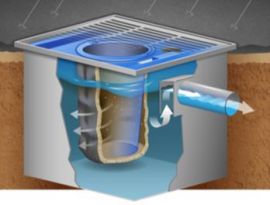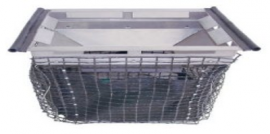 Brief Description
The Post-Construction Inlet Protection BMP/Filter provides a permanent method of removal of some pollutants for any storm drain inlet. This system will capture and collect some pollutants, according to the filter design, before they enter the stormwater conveyance system.
Cost Range
Construction: $$
O&M: $$
Ideal Conditions for Installation
Precipitation: All
Soils: N/A
Groundwater: N/A
Where/Applicability
Residential: Yes
Commercial: Yes
Ultra Urban: Yes
Industrial: Yes
Highway/Road: Yes
Retrofit: Yes
Feasible: Most inlets
Maintenance
Frequency: Quarterly or depending on the stormwater pollutant type and loading
Type: Vacuuming, emptying or replacement
Monitoring: Quarterly inspections or as needed
Permit Renewal: N/A
Performance
Total Suspended Solids (TSS): 82% to 99%
Chloride: N/A
Total Nitrogen: N/A
Metals: Possible depending on the filter design and particle size
Oils and Grease: Up to 96% with Add-on
Pathogens: N/A
Specifications
1. Install at inlets downgradient of areas disturbed by construction activities. Provide protection for both sides of street.
2. Use only drop-down bag style inlet protection (minimum 12" bag depth).
3. Do not use sand/gravel bags or grate wrap style inlet protections.
4. Use only inlet protection that is made of a material that will allow water to pass through while filtering out coarse and fine sediment at a 99% removal rate. Filter bag material must be able to pass a minimum of 20 gallons per minute.
5. Provide maintenance per manufacturer's recommendations.
Construction Sequence
Prior to opening the roads to traffic after the inlets have been built.
At any time during the life of a catch basin or inlet.
Downloads
Post-Construction Inlet Protection/Filters DWG
https://d838380e-3ffd-4f23-b8ae-1169425c7f86.filesusr.com/ugd/4ec5f3_a6bf1d4839c74a74b2dcf3d0c0a5f64c.dwg?dn=07_LID_StormwaterBMP_Inlet_Filtration_De

Links
Inlet Filter Reference
 https://www.inletfilters.com/engineering-resources 

Design Standard